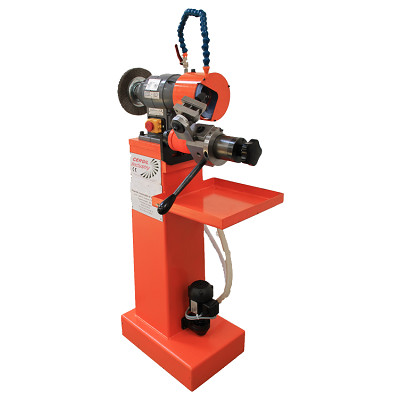 Main Features
Rotation speed 2800 rev/min.
Watering pump 0,17 KW.
Dimensions : 1450 (h) x 800 x 400mm.
Weight: 80 Kg.
Grinding Machines Description
The grinding machine allows a rapid sharpening of the chasers and guarantees the good cutting angles of your chasers, depending on the hardness of the metals you must thread. It's a small user-friendly manual machine.
The sharpening is realised by a special fine-grained cup wheel for HHS steels.
The rotation of the wheel is guaranteed by an electrical motor 0,75 KW.
The support of the tool facilitates the movement in front of the wheel and enables a simple, rapid and precise sharpening.
The machine is equipped by an integrated cooling system for the chaser.
Furthermore, after the sharpening, the machine is equipped by a brush that allows to remove the grinding edge in order to realise a speeder regulation of the diameter of thread.
The grinding machine can sharpen chasers of every brand.
ARE YOU INTERESTED IN OUR PRODUCTS?